For You and Your Business
Featuring the Dynamic Art, Graphics, Illustrations, Logos, Children Book Illustration, Advertising and Design of Scott Howard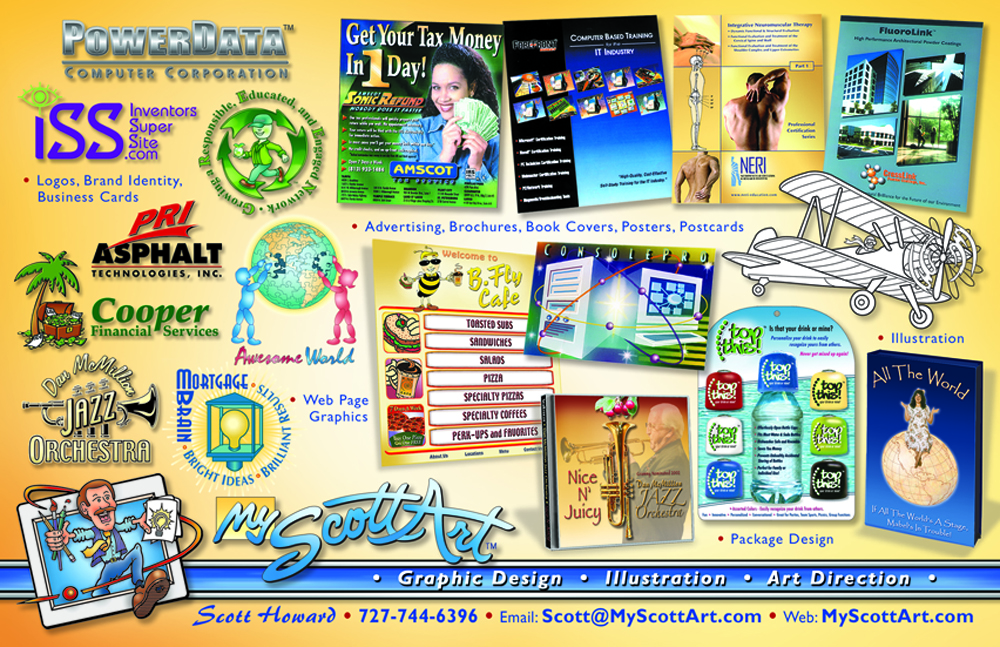 Welcome to MyScottArt, featuring the dynamic art of Scott Howard. At MyScottArt we understand the value of dynamic art. Whether it's creating a new logo and business cards, an impressive book cover or package design, or attention-grabbing advertising for your business or products, our goal is to create your vision and exceed your expectations.
The art work shown here is the work of Scott Howard. However, MyScottArt (the business) often involves writers, photographers, web experts, and creative people dedicated to providing excellence and client satisfaction. In short, Scott and his associates will work with you to ensure creative solutions which fulfill all of your design needs.
Check out Scott's Portfolio of attention-grabbing GRAPHICS, ILLUSTRATIONS, LOGOS, and discover the Amazing CHILDREN'S BOOKS illustrated by Scott Howard.
Logo Design, Brand Identity, Business Cards
• Advertising, Magazine Ads, Brochures, P.O.P Signage, Billboards
• Package Design, CD, DVD, Labels, Book Covers, Book Layout (Cover to Cover)
• Children's Books and Children's Book Illustration
• Illustration: Product, Technical, Cartoon, Characters, Line Art
• Internet / Web Design and Graphics
• Photoshop Photo Editing
Don't hesitate to Contact Us (info below). We are ready to begin work on your creative needs.
About Scott Howard & MyScottArt
In the Creative World, Scott Howard is well-recognized as a successful illustrator and graphic artist, children's book author & illustrator, and as a dynamic 'creatively inspiring' speaker.
Scott grew up in a country town in Massachusetts, named Rehoboth. As a child, he was a day-
dreamer with a creative mind and an artistic talent. His interests led him to serve three years as a graphic artist in the US Army. He received an Associates degree from Monterey Peninsula College and B.A. from California State University in Fullerton, California. His path then led Scott to Tampa Bay, Florida, and a career as a graphic designer and art director with a variety of businesses and advertising agencies and finally to open his own business, MyScottArt. Beyond art, Scott's interests include psychology, self-development, motivational speaking, and a life-long desire to learn. He acknowledges, "There's always more to learn!"
In 2008, Scott asked himself "What can I do to make a difference, especially with my art?" The answer first came in an idea for a one-of-a-kind book. Combining his life-long influences and interests, Scott spent over 5 years and 5,000 hours creating the amazing, Artsy Ant Alphabet Art Adventures.
While studying the attributes to become a successful author, Scott joined Toastmasters to develop public speaking skills, CEOSpace to improve business knowledge, and several other professional organizations. As a result, Scott has become a highly sought-after to illustrate children's books for others, and as an inspiring speaker with a variety of organizations, events, and children's causes. www.ScottHowardSpeaks.com
Children's Charity Events
Scott Howard has a calling to encourage, empower and entertain children. As a "Creatively Inspiring'artist, author and dynamic speaker, Scott has worked with businesses, organizations, schools, causes, charities, fundraisers, and services that benefit, teach, and encourage positive child development. At most events Scott signs books, while a portion of the proceeds are donated to the fundraiser or charity. Scott can serve as a dynamic keynote speaker or entertaining workshop presenter for your organization, conference or event. www.ScottHowardSpeaks.com
"Often times, it takes just one 'Creative Spark' to change a life from average to awesome!" – Scott Howard